SCG Paper Rebrands as SCG Packaging
Ready to Lead ASEAN Market by Providing Value-Added Total 
Packaging Solutions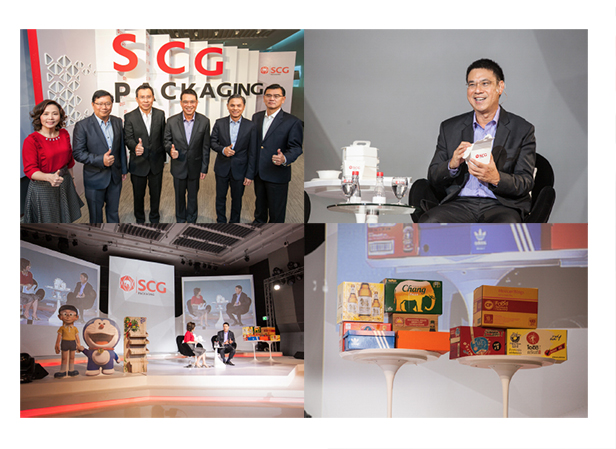 Bangkok: 12th June 2015 – SCG Paper is rebranding as SCG Packaging, striving towards creating values and packaging product innovations that address the varied needs of customers and other stakeholders in a sustainable basis. The company is set to lead the end-to-end packaging industry in the ASEAN region by co-creating and developing new product and service innovations.
Mr. Roongrote Rangsiyopash, President of SCG Packaging, said that "we have witnessed a continued growth in the demand for packaging products in the ASEAN region and there is a lot more potential for future growth of innovative products. In addition to that, consumer behavior has drastically changed in recent years, in which they are relying more on electronic media instead of printed materials. As a result, SCG Paper expanded the business to include packaging products during the past 4-5 years. In response to a shifting towards packaging business, sales revenue of packaging products in 2014 accounted for approximately 72 percent of the total. For the sake of clarity and the business direction alignment, SCG Paper is rebranding as SCG Packaging to bring more clearness in business direction. Our goal is to strive towards becoming a total packaging solutions provider who co-creates values and end-to-end packaging innovations that truly answer the varied needs of customers, consumers and other stakeholders in a sustainable way. The company's focus will be on business expansion within the ASEAN region, research and development of new products, services and solutions, and co-creation with customers to bring about new innovations that truly deliver maximum values and benefits to customers and consumers."
The company's business direction will focus primarily on the ASEAN markets as the region has a high economic growth as well as contributing to a steadily increasing demand for packaging. Currently, there are production bases located in Vietnam, Indonesia, the Philippines and Singapore, with plans to expand to other countries in the region including Myanmar and Cambodia. The company has readiness to facilitate various needs of customers throughout the region. With highly competent staff in various fields, a continued improvement of machinery, and an increase in competitive edge by building partnerships to co-develop product and service innovations that are highly efficient, SCG Packaging has an intention to uplift industry standards across the region in anticipation of the expected economic growth, in a sustainable way.
SCG Packaging will continue to create new product and service innovations to create values and answers the various needs of the market. In 2015, the company will allocate more than 400 million baht towards creating new innovation and has a goal to increase sales revenue from HVA products to 47% within five years. Some of the innovations include value-added packaging, special printing techniques, eco-friendly packaging to promote an efficient use of natural resources, food safety packaging certified by Good Manufacturing Practice (GMP) standards, drinking cone cup made from 100% virgin pulp that is safe for consumers and highly efficient as the cups can be easily used and are leak-proofed, a one-stop service design solution entitled "Inspired Studio", providing design and production services, as well as consultation regarding any creative graphic design and commercial use. The company currently employs more than 86 researchers who work closely with the production and marketing teams and are experts in packaging product development. In order to achieve all of these challenges, a culture of customer-centricity is also cultivated as to ensure that SCG Packaging personnel will be the unbounded answers and sustainably grow with customers in a long run.