Vina Kraft Paper continues to invest in new production lines PM2 fully supporting the ASEAN market growth.
​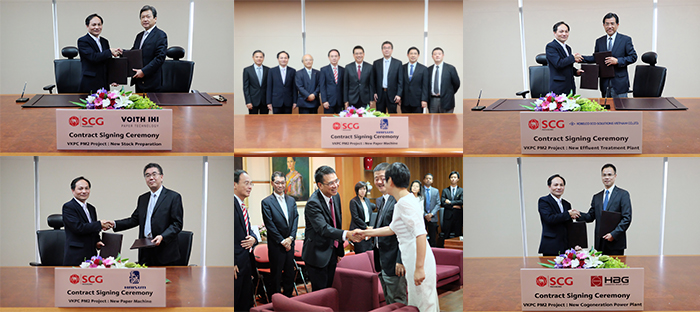 Vina Kraft Paper in SCG Packaging, which has a production base in Vietnam underlines its leadership in ASEAN packaging by signing the agreement to expand the investment in PM2 project with four leading companies in order to increase its capacity to accommodate the demand for growing packaging paper market in Vietnam.
On 16th June 2015, SCG Vina Kraft Paper Packaging leading by Mr. Sangchai Wiriyaumpaiwong, General Director - Vina Kraft Paper Co., Ltd., has invested in a new production line for packaging paper or VKPC PM2 by signing contracts with four leading companies;
Mr. Qi Yongyi, Vice President - China Haisum Engineering, for paper machine or VKPC PM2 with a capacity of 220,000 tons of packaging paper per year
Mr. Hirofumi Morita, President - Voith IHI Paper Technology, for

stock preparation at 870 ADT per day
Mr. He Weixiao, Executive Vice President - Hangzhou Boiler Group, for the new co-generation power plant with a capacity of 20 megawatt of electricity and 130 tons per day of steam
Mr. Katsuhide Motojima, Deputy General Director - Kebelco Eco-Solution for the effluent treatment plant with a capacity of 8,500 cubic meters per day
Also, Mr. Roongrote Rangsiyopash, President – SCG Packaging together with Mr. Tanawong Areeratchakul, Vice – President –Corporate Administration SCG, and project engineering teams witnessed and congratulated the signing ceremony.
This is another one of our milestone for the growth of SCG packaging, enhancing competitiveness and becoming the total solution provider for the ASEAN market.